USPS Tracking International| USPS Priority Mail Express Tracking
Ordertracking allows you to track USPS parcels at any time, easy to get timely notification of delivery detail.
OrderTracking offers parcel tracking services from over 600 couriers including FedEx, UPS, China Post and others. Easily track your USPS parcels here!
For question about tracking 1-800-222-1811
For customer service 1-800-275-8777
(Monday - Friday 8 AM - 8:30 PM ET; Saturday 8 AM - 6 PM ET)



The USPS Tracking Number Format—



| USPS service | tracking number |
| --- | --- |
| Global Express Guaranteed | 82 000 000 00 |
| Priority Mail Express International | EC 000 000 000 US |
| Priority Mail International | CP 000 000 000 US |
| Priority Mail Express | 9270 1000 0000 0000 0000 00 / EA 000 000 000 US |
| Priority Mail | 9205 5000 0000 0000 0000 00 |
| USPS Tracking | 9400 1000 0000 0000 0000 00 |
| Certified Mail | 9407 3000 0000 0000 0000 00 |
| Collect On Delivery Hold For Pickup | 9303 3000 0000 0000 0000 00 |
| Registered Mail | 9208 8000 0000 0000 0000 00 |
| Signature Confirmation | 9202 1000 0000 0000 0000 00 |
USPS Priority Mail
The transit time is about 1-3 working days, insurance with the value of Insurance compensation amount up to 50 USD is included for most service. No extra cost needed such as Fuel cost. The postage is the same in different places. Except for Priority Mail Flat Rate, the price of Priority Mail varies with the area the weight of the item. The service—Priority Mail Flat Rate offers package boxes in different sizes, and with different transit time to saving cost for customers. The price of service USPS Priority Mail Open&Distribute is based on the zone and weight of the item.
The weight limit is 70 lb. The sum of perimeter and height should not exceed 108 inches.The transit time is usually written on the receipt, and the actual transit time depends on the sending address, terminal address and delivery time.And the following services is not with insurance service— Merchandise Return Service (MRS)、Priority Mail Open & Distribute、Premium Forwarding Service-Residential or Premium Forwarding Service-Commercial.And it is advised to buy additional insurance for items with value more than 50 USD. If the delivery date is on Saturday which is also the National statutory holiday, the additional fee needs to be paid for the Priority Express Mail. Mail and box are usually delivered in 7-10 days as normal posting items.


USPS FAQ
Q: I don't have a tracking number, how can I find the USPS tracking number?
A:
—If you send the parcel at USPS post office, you can find it on the receipt of USPS,
—If you send the parcel by online service of USPS, you can find it email sent from USPS,
—If you are the receiver, please contact the sender to get the tracking number.
Q: I haven't received my USPS package, what should I do?
A: Please check if there is the status of "Alert," which means a delay might happen, please contact USPS customer service as soon as possible. (Possible reason for delay delivery—
Deducted or confiscated by customs; The wrong address of receiver; The recipient is not available; Weather reason; Some public holidays)
Q: What is the USPS tracking status— "NOTICE LEFT" mean?
A: It means the USPS has attempted to deliver your parcel, but the delivery is not successful.
(The possible reasons—Problematic item; receiver's rejection; Without a signature; detained by custom; Abnormal dispatch; the address/phone number is incorrect/unknown; Need further contact, etc.)
Q: What should I do when I got "NOTICE LEFT"
A: Please let the receiver contact the USPS post office in the destination to schedule a Redelivery as soon as possible, or the parcel might be returned.
USPS Delivery Status And Meaning
DELIVERY STATUS NOT UPDATED—The parcel has arrived the USPS facility. Awaiting for the process for delivery.
RECEPTACLE BLOCKED—The delivery was incompleted for the mailbox is unavailable.
NO ACCESS—The address was unaccessible.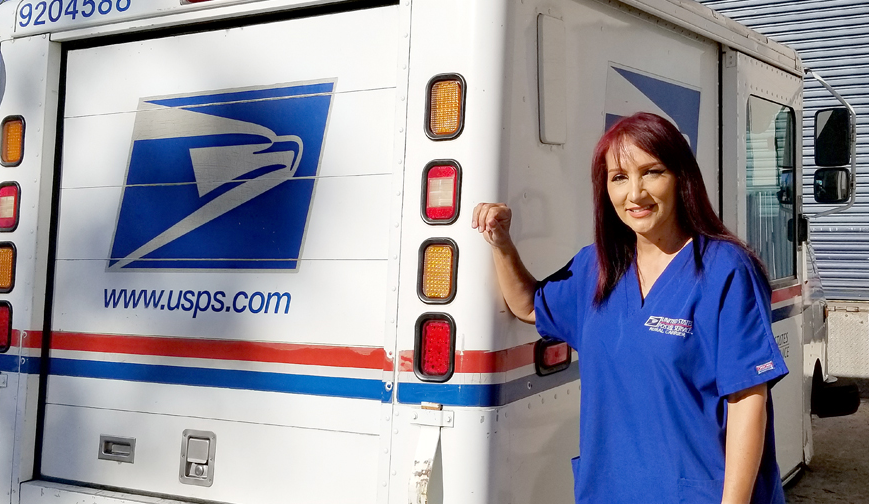 USPS Tracking
United States Postal Service (USPS) was founded in 1775, is an independent government agency, has locations (post offices) all across the continental United States. Provide service of postal deliveries, package transferring, goods transit. Ships to more than 190 countries such as Canada, Mexico.
Ordertracking—Track USPS Parcels
[Don't Worry about Tracking USPS Large Order] — Support tracking in batches, you can bulk view the delivery status of multiple orders in a single page, which saves more time for online merchant and customer managing delivery of orders
[Support Tracking USPS Parcels at Anywhere]— Ordertracking is made for different platforms. You can track and manage your parcels whenever and wherever you need on different devices, such as PC / mobile.
[Easy to Follow up on Every USPS Order]— Keep updates of delivery information informed by SMS, you can follow up every order by just checking the message. So that you can take timely action if any exceptions occur, which helps to decrease the package loss rate.
[Ideal USPS Tracking Tool]—Supports tracking orders and packages of couriers worldwide, suitable for online traders who have lots of parcels to track. Save times for sellers and customers to manage delivery information.