UPS Mail Innovations Tracking
This is a joint effort between USPS and UPS in which the latter pick your shipping items and the former delivers. This service is more convenient as it allows access to the remote or local hubs. It also ensures efficient package delivery and last-mile fulfillment services to over 200 countries globally.
Order Tracking offers parcel tracking services from over 600 couriers including USPS, Yanwen, China Post Group and others. Easily track your UPS Mail Innovations parcels here!
Email: info@ups-mi.com
UPS Mail Innovations Tracking Number
The tracking number consists of up to 26 digits, for example, 92748999964211543478472543.
UPS Mail Innovations Delivery
UPS Mail Innovation offers both domestic and international mail processes that involve huge-volume mail shipments. Below are the specifics of each process.
Domestic Mail Process
The joint venture uses both the extensive U.S Postal Service and the vast UPS network to offer Mail delivery services. This enables cost-effective services within 24/48 hours of the package pickup. This efficiency in service is attributed to the following features.
Reliable transportation by UPS
Flexible pickups that meet your shipping needs
Secure facilities and reliable systems
Automated one-stop processing
International Mail Process
This is a delivery service for the time-sensitive Mail shipments using either Economy or Priority shipping service. It is a cost-effective process that can be expedited for shipping items to more than 200 countries globally. Its key features are:
Reduced shipping costs with a simpler international postage
Increased efficiency in delivery
Value-added services
Unmatched reliability and speed
Customized to meet your needs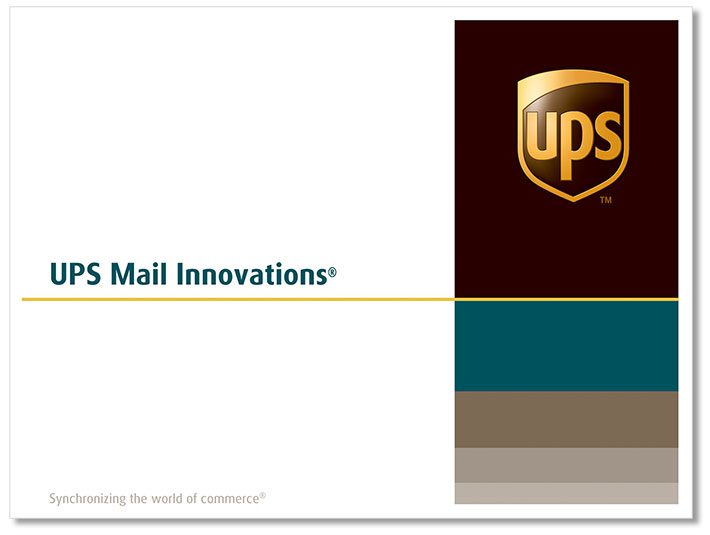 UPS Mail Innovations FAQ
Q: Will UPS-MI open my well-wrapped shipping item?
A: — UPS-MI has the sole right to inspect. However, this is not a mandatory exercise and you should, therefore, provide every relevant information concerning the item.
Q: Why are the shipping charges higher than they were initially quoted?
A: — UPS-MI reserves the right to adjust or change the shipping charges without consulting the shipper. The changes may most likely be due to incorrect or incomplete shipment information by the consignor.
Q: Why is my shipping item rejected by UPS-MI?
A: — UPS-MI rejects or refuses to transport items that do not meet the required shipping standards. This could also be due to the lack of a delivery address on the shipping item.
Q: In what way do I pay for my shipment by UPS-MI?
A: — You should only make payments to UPS-MI through wire transfer or a check. The funds should be credited to a bank account or the indicated address on the shipment document.
Q: When should I make a shipment fee?
A: — You should pay all the applicable shipping fees within 7 days from the invoice date.
Q: What happens if I receive a damaged item from my local Postal Authority?
A: — UPS-MI is not liable to any peril to an item, once it hands over to a Postal Authority. In such a case, you should take up the matter with your local Postal Authority
Q: What is the timeframe for filing a claim?
A: — You should write to UPS-MI within 15 calendar days from the item delivery date.
Q: How can I trace my shipment?
A: — Enter the package number which is the tracking number on the UPS-MI tracking portal.
Q: Can I send an item to a postal address with UPS Mail Innovations?
A: — Yes.
Q: Can I insure my shipping item with UPS-MI?
A: — No. UPS-MI does not provide insurance for Standard Mail shipments.
Q: What I receive an item that was damaged while in transit?
A: — You should contact the shipper of the package to initiate a claim or a return process. Both processes are unique with each retailer, therefore, the company should engage the consumer to schedule the return.
Q: Why is my UPS package at the Post Office?
A: — UPS-MI engages in postal work, thereby, encouraging pickup, interim transportation, and mail processing by the local and international Postal Authorities.
Q: Is it a must I confirm delivery by signing?
A: — No. Signing is not necessary during delivery.
Q: What should I do with a yellow card that I got from the post office?
A: — You should call the post office through the number on the card to schedule item delivery. Alternatively, you can physically visit the post office to pick up the item.
Q: When will you deliver my shipping item?
A: — UPMS-MI channels your item to the U.S Postal Service in 48 hours during processing. The average shipping duration is 3-5 days.
UPS Mail Innovations Status
| Status | Description |
| --- | --- |
| Package en route to USPS for induction | The package is on the way to UPS-MI facility for registration |
| Package transferred to UPS-MI facility | The package transferred from UPS to UPS-MI facility |
| Received for processing | The item received by UPS-MI and is pending processing |
| Processed | Item processing complete |
| The shipment information received | The package details received |
| Acceptance at the post office | The item is pending acceptance at the post office |
| Received by the post office | The item is with the post office |
| Delivered by post office | The package is successfully delivered by the post office |
| The shipment tendered to UPS-MI | The shipment assigned to UPS-MI for delivery |
| Package out for post office delivery | The package is out for delivery by the post office |
| Returned to origin | The package sent back to the shipper |
| Package undelivered | Unsuccessful package delivery |