UPS Ground Tracking
This is a cost-effective and guaranteed delivery service by UPS. It has the following key features:
Economic for all routine shipments
Guaranteed delivery with advance item arrival information

Time-definite delivery (1-5 days)

OrderTracking offers parcel tracking services from over 600 couriers including China EMS(ePacket), Yanwen, USPS and others. Easily track your UPS Ground parcels here!
Customer Support Telephone: 1 800 742 5877
Email: totaltrack.gb-[email protected]
UPS Ground Tracking Number
The tracking number consists of eleven characters (a letter and digits), for example, H9780031744.
UPS Ground Delivery Tracking
UPS makes deliveries by road to various destinations via the UPS Ground.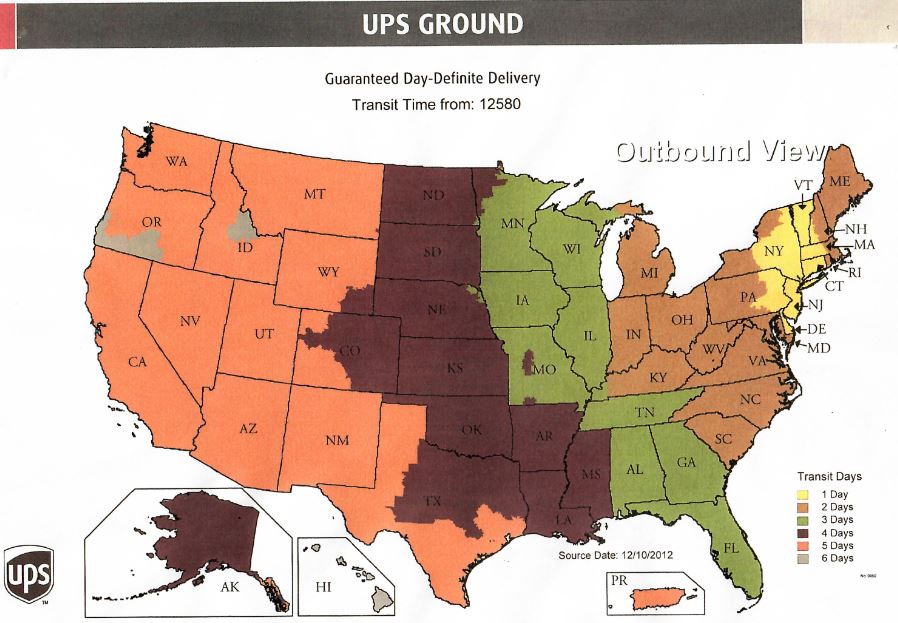 UPS Ground FAQ
Q: How long does a claim process take?
A:— The process takes an average of 10 days from the day of filing with the relevant documents.
Q: Can I track multiple shipments at once with UPS Ground tracking?
A:— Yes. You can track up to 25 shipments by entering the different tracking numbers all at once.
Q: Why do I get the same tracking status of my parcel?
A:— It is most likely that your parcel is still in the hands of the UPS Ground network. Your shipment delivery is marked and updates are made on the tracking e-portal. Therefore, you should refresh the tracking process often for accurate delivery status.
Q: Why is my shipping item not yet delivered as scheduled?
A:— UPS strives to ensure timely deliveries. The transit/delivery time means the working or business days which excludes weekends and holidays.
Q: Can I change the parcel delivery address?
A:— You can change the delivery address of your item at an extra cost.
Q: What is the shipping cost of an item within the U.S?
A:— The shipping cost is dependent on the weight, destination, origin, and type of service. You should use the online calculator tool to determine the shipping cost.
Q: Do you offer special shipment handling services?
A:— Yes. UPS Ground offers special handling services for the following shipping items.
Batteries
Firearms and Ammunition
Global shipping of dangerous goods
Tobacco
Irregularly-shaped items
Live animals
Electronic media
Wine
Q: How do I find a UPS Ground drop off location?
A:— The courier has a location finder tool on its website that guides in identifying the region it serves.
Q: The shipping status of my item reads Delivered but cannot find it, why?
A:— The courier guarantees safe deliveries and as a result, your shipping item may be placed in a hidden section. You should thoroughly check to ensure all areas surrounding the delivery location are clear. In case you don't see your item, contact the shipper to begin the claim process.
Q: Is it mandatory that I sign a package?
A:— No. Some packages require signing and some don't. You should check for a Special Instruction-red box that may read Signature Required. A box with no such instructions indicates that no signature is required.
Q: Can I send a parcel to a postal address?
A:— Yes. UPS allows the delivery of shipping items to P.O Boxes or postal addresses via the UPS Surepost.
Q: Can I request a Return service while my item is in transit?
A:— You can only request a Return to Sender after the first delivery attempt.
Q: How do I request a refund if I receive my parcel later than expected?
A:— You should request a refund if you do not receive your parcel on the exact delivery date or time in the following ways.
Log in to the UPS Billing Center and select Request a Refund
Call UPS on1-800-742-5877 and just say 'Refund' for the service.
Q: Is the tracking status on the UPS website real-time information?
A:— Yes. The tracking status of your UPS shipment is the most up-to-date delivery information. The transit of a shipping item involves various activities such as label scanning. For this reason, you should regularly track your shipment to ensure you get the most recent status.
Q: Why does my shipment tracking read 'Exception'?
A:— A tracking status that reads Exception means that the item delivery process is experiencing unforeseen circumstances. Therefore, delays in delivery may arise as a result of the changes in the delivery schedule.
Q: Can I get a proof of delivery via the UPS e-tracking portal?
A:— Yes. UPS tracking has an enhanced proof of delivery feature that allows you to establish the exact delivery time. The document is printable thus vital for your shipping records.
Ordertracking – Track UPS Ground
[A key tool for e-commerce] – Take your online business to a different level through efficient tracking.
[Choose from multiple tracking devices] – Use any of your online tools including mobile and PC to follow-up on your item.
[Automatic status notification] – Get real-time SMS updates on the delivery status of your UPS shipment.
[Bulk track and Trace your UPS package] – Make multiple tracking of your bulk shipments with ease.