Old Dominion Tracking
Old Dominion Freight Line is an American-based company that specializes in less than truckload shipping. The company was founded in 1934 and the Headquarters is in Thomasville, North Carolina-USA. Besides the less than truckload shipping, Old Dominion also offers logistics services.
OrderTracking offers parcel tracking services from over 600 couriers including China ePacket, Yanwen, USPS and others. Easily track your Old Dominion parcels here!
Customer Support Telephone: 1-800-235-5569
Email: [email protected]
Customer Support Working Hours
7:00am – 8:00 pm (Monday - Friday)
Old Dominion Tracking Number
The tracking number consists of eleven digits, for example, 08231806673.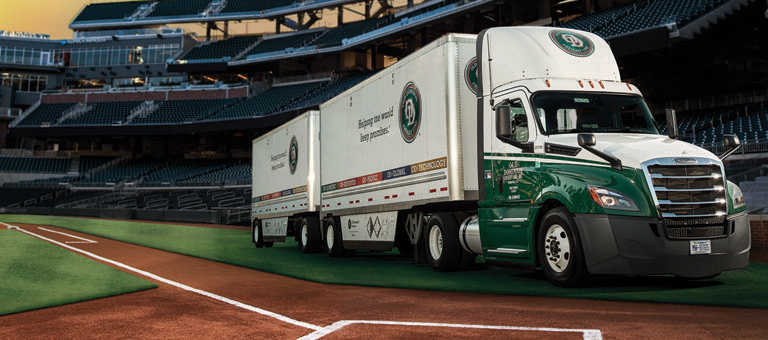 Old Dominion Freight Delivery
Old Dominion offers both local and international freight delivery services. These include:
LTL Shipping Services
Old Dominion Global Freight
International Air Freight
LTL Shipping Services
This is an Old Dominion Less than Truckload nationwide delivery service in the United States. It is a cost-effective delivery service that allows both intra and inter-regional shipping within the US borders.
Old Dominion Global Freight
The company offers direct delivery services to Hawaii, Alaska, Mexico, Puerto Rico, and Canada. Old Dominion freight has partnered with Mallory Alexander International Logistics to ensure world-class delivery services. This partnership enables deliveries across Europe, Central America, the Caribbean, South America, and the Far East among other global regions.
We make your freight world a whole lot smaller.
International Air Freight
This is an ideal international delivery service for imports and exports across Europe and Asia. It is convenient as it offers both LCL and FCL services at affordable rates, online delivery booking, and has a shipment tracking feature.
Old Dominion Freight Transit | Delivery Time
The transit time is approximated parcel delivery duration. The transit time varies depending on the destination, service in use, and the parcel weight. The Old Dominion Freight has a shipping time calculator which gives transit time through the following ways:
Emails – You receive email containing all Old Dominion destinations delivery times
Maps – This allows you to select your Old Dominion location and transit time
Expedited Search – Offers expedited transit times between Canada and the USA through destination and origin postal/ZIP codes
The Route Guide – Provides delivery time through state selection
Time Search – Enter the ZIP/postal code to determine the transit time between Canada and the USA
Old Dominion Freight FAQ
Q: How will I know that my shipping item has arrived?
A:— - Upon a successful delivery of your shipping item, the courier will notify you through:
A phone call
A written delivery notice at your door
Email
Q: Why is my shipping item undelivered?
A:— - There are certain situations that may cause unsuccessful delivery which includes:
Refusal by the addressee to accept the item
An error on the addressee details
Hard-to-locate delivery destination
All the above factors considered, the courier will ensure prompt notification to the sender that the shipping item is at their office.
Q: Can I assign the payment role to the receiver of the shipping item?
A:— - Yes. The Old Dominion allows the Cash on Delivery payment option under the following conditions.
The Cash on Delivery amount should not exceed $5,000.
It is only single Cash on Delivery that won't be subject to the payment conditions.
In case the Cash on Delivery amount to be collected exceeds $5,000, the courier will only be liable to $5,000 in case the amount is uncollected.
Q: Do you make deliveries on weekends?
A:— - The courier is not responsible for weekend or holiday deliveries. However, if the sender requests for a weekend or holiday delivery, there will be extra delivery charges.
Q: What happens if a shipping item is undelivered?
A:— - The Old Dominion will return the shipping item to the sender who will be liable for the delivery cost.
Q: What happens if I forget my account password?
A:— You should visit the Old Dominion Freight website and click on the forgot password to reset your password. Your new password will be sent to your registered email address.
Q: Will I still be able to reset my password if I changed the email address I registered with?
A:— Yes, you will. Please contact the Transportation Services through 1-800-235-5569 for assistance. Note that your password reset details cannot be sent to an unregistered email address.
Q: Why does my Bill of Lading lack a barcode?
A:— There is a possibility you are not using the latest version of Adobe Acrobat Reader. Please download the latest version on your machine to view the barcode.
Q: Why am I missing some information on the Bill of Lading I generated?
A:— Kindly install the latest version of Adobe Acrobat Reader on your machine to view all the details.
Q: Why can I view but not print my documents?
A:— You should check to ensure that your Tiff viewer program has print capabilities.
A:— Please send an email to the Webmaster on our website. You may access services from 08:00 am to 05:00 pm on weekdays. You can also call our customer service number if in need of immediate assistance.
Q: What happens if I forget my username?
A:— Please contact Transportation Services through 1-800-235-5569. You will not be able to get your account information via an unregistered email due to the nature of the account`s sensitivity.
Q: Is it possible to share a username with another client.
A:— Yes. It's possible but not advisable.
Q: Can I remit payment for my invoice online?
A:— Yes. Once you sign in to your account, select the Tools - Payables option. You will get an option to pay for your invoice online.
Ordertracking – Track Old Dominion Freight
[Regular automatic updates] –Get SMS notifications on the status of your shipping item.
[Track and Trace your bulk shipment] – Make follow-ups on your bulk Old Dominion Freight.
[Ideal for e-commerce] – Meet the global online business demands through Ordertracking
[Useable on multiple devices] – Work with both your PC and mobile devices to track your shipment.