Kerry Express Tracking | Kerry Express Thailand & Malaysia
Kerry Express is a subsidiary of the Kerry Logistics Network Company founded in 1981 and based in Hon Kong-Asia. It provides both domestic and international last-mile delivery services which include B2B2C, C2C, and B2C. The company covers the vast Asian regions such as Thailand and Malaysia.


Customer Support Thailand Tel: +662 238 5558
Fax: +662 237 3752
Customer service working Hours: 08:30am– 10:00pm (Monday - Friday)
Claim Centre: -08:30am – 6:00pm (Monday - Friday)


Kerry Express Tracking Number
The tracking number is the shipment number that consists of up to 13 characters, for example, GTD123456789.


Kerry Express Delivery Tracking
The company offers the following domestic and international delivery services
Business-to-Business (B2B)
Business-to-Consumer (B2C)
Consumer-to-Consumer (C2C)
Bangkok Sameday
Business-to-Business (B2B)
This is a parcel delivery service for corporates like the international couriers, legal firms, financial institutions, banks, and direct sales companies.
Business-to-Consumer (B2C)
This is a parcel delivery service for the ever-growing e-commerce sector. Kerry Express delivers parcels to individual online shoppers in Malaysia and Thailand. Here are the service key features:
1) It is convenient and efficient
2) Parcel tracking feature
3) Payment on delivery option
4) Debit card, Credit card, and Cash on delivery options for doorstep deliveries
Consumer-to-Consumer (C2C)
Kerry Express caters for individual parcel delivery needs in two ways:
Parcel Shops
Parcel lockers
1) Parcel Shops
These are Kerry Express parcel delivery and pickup points that cover Thailand and Malaysia among other major Asia regions. Through these shops, sending and receiving parcels in Thailand is cost-effective, reliable and efficient. The company guarantees Next Day Thailand delivery for items received at the parcels shops latest 3:00pm.
2) Parcel Lockers
This is a 24/7 personal delivery service that allows you to pick up and send parcels across Bangkok's residential and business locations.
Bangkok Sameday
This is a tailored parcel delivery service for customers in Bangkok. It has the following features:
2 hours guarantee pick up
Same day delivery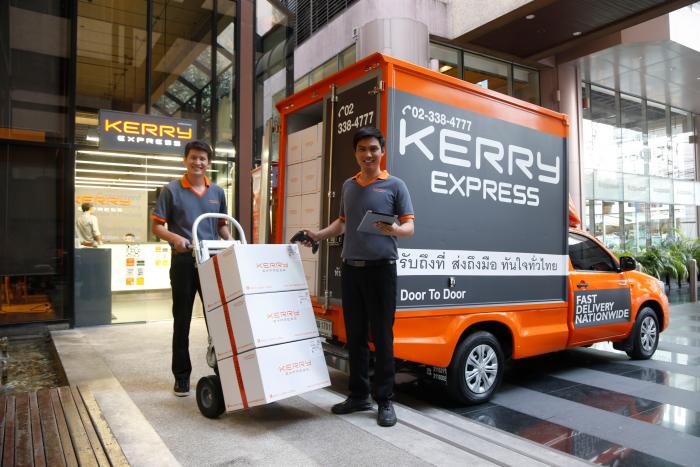 Kerry Express FAQ
Q: How do I calculate my parcel delivery fee to Malaysia?
A:— The delivery fee is determined through the parcel weight, dimensions, and delivery service. The minimum fee at the Parcel Shop is 30 Baht.


Q: Can I send a parcel on Saturday?
A:— No. Kerry Express offers parcel delivery services during weekdays only.


Q: How do I track my parcel?
A:— To track your parcel, enter the shipment number in the e-tracking portal.


Q: Can I cancel my parcel delivery?
A:— Yes. You can request the cancellation of your parcel delivery by calling the Customer Centre through 1217.


Q: Can I alter the parcel delivery address?
A:— Yes. This can be done at the Parcel Shop or by calling the Customer Support Centre. However, changing the delivery address will attract a fee of 150 Baht and will also take 1-3 business days.


Q: What happens if my parcel gets lost or damaged?
A:— Kerry Express offers the safest delivery of your parcels. However, in the unlikely situation of damage or loss, you should call the Customer Support on 1217. The Customer Support team will make follow-ups and update you on the matter.


Q: Why have I not yet received my parcel?
A:— The estimated delivery time is based on previous delivery records. The approximated time may differ with the actual hence it is possible to experience slight delays in delivery. Besides that, there are other unpredictable circumstances such as bad weather and incorrect address that may cause a delay. In case the delay takes longer than expected, track your parcel or contact the Customer Centre on 1217.


Q: Can the addressee in Malaysia make the payment on my behalf?
A:— Yes. When posting your parcel select the payment on delivery service option. The addressee can make the payments via credit card, debit card or cash on delivery.


Q: How do I ascertain that my parcel has been delivered?
A:— Kerry Express will send you delivery notifications either through an SMS or email. Also, the tracking feature will give you the delivery status of your parcel.


Q: What should I do if unavailable for the parcel pickup?
A:— You can request a pickup cancellation by calling the Customer Centre on 1217. The team will help you schedule for a later pickup service.


Q: How do I make a claim?
A:— You should call the Customer Centre on 1217 within 14 working days after the delivery date.


Q: Is there liability coverage for my parcel?
A:— Every Kerry Express shipment is liable to an insurance cover of 2,000 Baht for loss or damage during the delivery process.


Q: Why is my parcel undelivered?
A:— Some situations may cause delivery failures. They include:
· Parcel rejected by the addressee
· Incorrect address label
· Unsuccessful delivery attempts
Kerry Express offers free Return services for the undelivered parcels.


A:— Yes. The insurance fee is 1% of the declared parcel value (50,000 Baht maximum). Also, the parcel should be eligible for this service and must feature in the claim lists.


Q: Can I send a parcel to a Pos Malaysia address?
A:— No. Kerry Express does not offer deliveries to postal codes or PO Boxes.


Ordertracking – Track Kerry Express
[Real-time updates]– Receive real-time SMS about the status of your parcels
[Ideal for your B2C deliveries] – Improve your e-commerce purchasing and delivery experience
[Use your PC and Mobile] – Guaranteed compatibility with any device of your choice
[Bulk Track and Trace Kerry Express shipment] – Track multiple shipments in one experience
OrderTracking offers parcel tracking services from over 600 couriers including Amazon Logistics, Yanwen, Old Dominion, China Post, Yun express, XPOST, Jet Express, Ghana Post, DHL ECommerce, Wish Post, Swiss Post, 4PX and others. Easily track your Kerry Express parcels here!


Kerry Express Status
Status
Item is in transit
Item pickup
Item delivered
Item delivery expired
Item undelivered
Item pending delivery
Item received
Item dispatched
Item is at the Customs office
Item sort
Item has left Customs office
Item destination
Item origin information