Hermes Tracking | Track Hermes Package
Hermes is a multinational private courier company that was founded in 1972 and the Headquarters is in Hamburg-Germany. It specializes in parcel delivery and logistics services across various countries including Italy, China, Austria, Russia, and the United Kingdom. The company through its comprehensive worldwide delivery services and over 15,500 employees meets the ever-growing delivery and logistics demands.
OrderTracking offers parcel tracking services from over 600 couriers including China EMS(ePacket), Yanwen, and DPD and others. Easily track your Hermes parcels here!
Cellphone Number: 03303336556
Hermes Company has tailored contact centers for its clients. These include contact information centers for the press and its corporate clients. You should visit the company`s website to check on the details.
Hermes Tracking number
The tracking number consists of up to 16 digits, for example, 3336504303905961.
Hermes Tracking Delivery
Hermes offers parcel delivery services to select European countries and internationally through partnered global courier companies. Here are the specifics of each delivery service.
Europe Service
For over 40 years Hermes Company has been specializing in the Business-to-Consumer delivery service. It has an approximate record of 817 million parcel deliveries across Europe in a year with door-to-door services. The Europe Service key features include:
A maximum of four delivery attempts
Customs clearance solutions
Parcel tracking feature
Smooth Returns processes
Pickup and drop-off (Parcel Shop) services across Europe
Customer Support services
Delivery flexibility (to Parcel Shop/ workplace/home)
International shipping solutions and e-commerce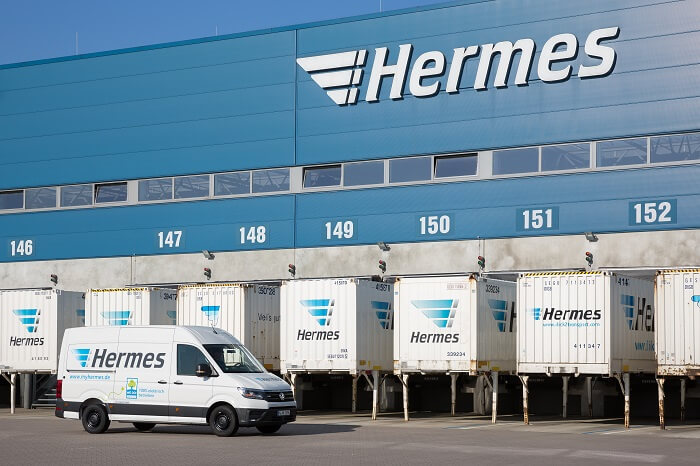 Hermes International Tracking
Hermes courier offers global delivery services specially tailored to meet the customers' delivery needs. The partnership with well renowned global couriers contributes to the reliable, efficient, and world-class delivery services. The key features include:
Deliveries to over 190 countries globally
Parcel tracking feature
It is cost-effective
BorderGuru delivery and payment options with Customs clearance solutions
The Ease of integration
Hermes FAQs
Q: How long does it take to deliver my parcel?
A:— If you choose delivery by a courier, it will take 4-5 working days. Also, dropping a parcel at a locker will take 2-4 working days to deliver.
Q: How can I track my Hermes shipping item?
A:— - Enter the myHermes order/shipping number on the Hermes e-portal.
Q: What happens if I miss myHermes delivery?
A:— The Company will make 3 more delivery attempts. Your courier will leave a calling card to inform you of the next delivery attempt.
Q: Can I divert my delivery to another address?
A:— Yes, you can. If unavailable in the next delivery attempt, you may divert the delivery to a safe location.
Q: Can I reject a delivery?
A:— Yes. You can reject a delivery when the courier arrives at your place.
Q: How do I find a Hermes parcel shop?
A:— Visit the Hermes website and use the Shop Finder on the home page. Enter your postcode to find the shop.
Q: Do I get a receipt when the courier collects my parcel?
A:— The courier will leave you a card that contains a barcode which acts as your collection receipt.
Q: Can I use the barcode on the receipt card for tracking purposes?
A:— No. You track your parcel using the barcode on the parcel label.
Q: Do you deliver fragile items?
A:— Yes. Hermes collects and delivers fragile items.
Q: How do I determine the weight of my parcel?
A:— You may use a weighing scale. In case you don't have one, use home items with a known weight such as a kilogram of sugar.
Q: Why did myHermes ParcelShop reject my parcel?
A:— Hermes Parcels are rejected for the following reasons.
If a parcel exceeds 15 kilograms.
A parcel is wrongly packaged/not packaged in the required standards.
The parcel contains banned items.
Q: Is it a must that I box my parcel?
A:— We recommend that all parcels be packaged securely.
Q: What are the opening hours for my Hermes parcel shop?
A:— Details on the opening hours are provided on the Parcel Shop finder on the Hermes website.
Q: What is the cost of shipping my parcel internationally?
A:— Shipment prices differ but start from as low as 5.93 dollars exclusive of VAT.
Q: How long does it take for Hermes to collect a parcel?
A:— The courier of your choice will arrive at your place anytime between 8 am-6 pm.
Q: Can I receive my delivery on a weekend?
A:— Hermes courier does deliveries on Saturdays but not on Sundays.
Q: Why is my Hermes parcel not yet collected?
A:— Hermes makes three parcel collection attempts. You may drop your parcel at a Hermes ParcelShop if you do not wish to wait.
Q: Can I personally collect my Hermes parcel?
A:— No. You cannot collect a parcel at the ParcelShop. Alternatively, you should divert it to an address where your courier will safely deliver.
Ordertracking – Track Hermes
[PC and mobile compatible] – Use Ordertracking from the device of choice.
[Bulk Track and Trace Hermes shipment] –Make multiple tracking of your shipments.
[Ideal for e-commerce] – Facilitate smooth tracking of your online business.
[Real-time delivery status SMS] – Receive regular automatic notifications about the status of your shipping item.