Estes Tracking | Estes Courier Tracking
Estes freight is a privately-owned full-service Express delivery company that provides custom logistics and end-to-end transportation services. The company was founded in 1931 and the Headquarters is in Richmond, Virginia-the USA. The courier has witnessed tremendous growth over the years with over 16,000 employees, over 200 terminals, and more than 40,000 vehicles.
OrderTracking offers parcel tracking services from over 600 couriers including China EMS(ePacket), Yanwen and others. Easily track your Estes parcels here!
Customer Care Telephone: (804) 359-9374
: (804) 232-1407
Estes Tracking Number | Estes Freight
The tracking number consists of 10 digits, for example, 1289666056.
Estes Freight Delivery | Estes Express
Estes offers delivery services at both domestic and international capacities. These services include:
The End-To-End International Services
International Air Freight Services
The Ocean Freight Services
Expedited Services
The End-To-End International Services
This Estes Freight service has the following key features:
Consular preparation
Export declaration
Documentation preparation
Shipment tracking feature
Complete supply chain solution
Wide network coverage and leading global partners
Seamless shipment handling and single invoicing
Customer Support
Purchase order management
Global distribution and warehousing
International Air Freight Services
This is an Estes international delivery service for the time-sensitive shipping items whose key features are:
Cost-effective shipping by Air
Expedited Air Delivery with economy Air, Air Charter, and Priority Air services.
Timely deliveries with regular Airline departures
Centrally located global courier partners
Ocean Freight Services
Estes Company offers international delivery services via the ocean convenient for the bulky packages. Here are the key features:
Inland freight
Less-than-container load (LCL)
Priority unloading
Full-container load (FCL)
Expedited Services
These are tailored international delivery services that best suit your delivery needs. They have the following features:
Time/Day specific delivery
Exclusive use
Air charter services
Next-Day
Ground expedite
Next flight out
Huge shipment simultaneous deliveries
Second-Day
Warehousing
Estes Express Transit/Delivery Time
The transit time is the estimated period to deliver an item from origin to the destination location. The approximated time is based on the distance between the two regions. For this reason, the Estes Freight website has a shipping time calculator that provides the delivery time estimate. To determine the transit time enter the origin and destination addresses of your shipping item.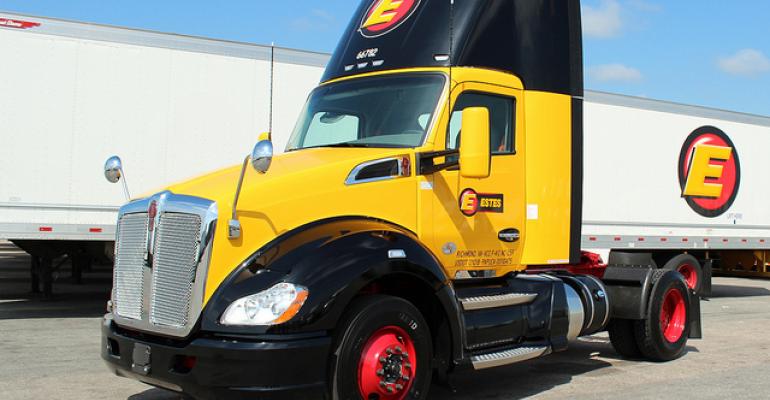 Estes Freight FAQs
Q: Can I pay for a delivery by Estes via a credit card?
A:— Yes. You can pay for the delivery using a credit card. However, you should contact Estes Customer Care for detailed instructions on this.
Q: What if I discover a damaged shipping item?
A:— In the unlikely event of a damaged item, you should report in writing to the nearby Estes terminal within 5 working days of the delivery. Inquire for inspection of the item while in possession of all the packaging materials of the damaged item.
Q: How long will my claim processing take?
A:— The claim processing duration depends on the extent of the damage caused to the item. However, Estes Freight strives to conclude the process within 30 days.
Q: How do I track my Estes Freight shipment?
A:— Enter the shipment number on the Estes e-tracking portal.
Q: Do you provide expedited international shipment service?
A:— Yes. We offer expedited delivery solutions to international destinations globally through the Estes Forwarding Worldwide.
Q: What are the required documents for Canada shipping?
A:— The required documents include the Bill of Lading, Canada Customs Invoice, the certificate of origin, and a commercial invoice.
Q: Which parameters should I use to classify my shipping item?
A:— The NMFC classifies items into 18 different classes basing this on their ease of delivery. The key classification factors include:
Storability
Liability
Handling capability
The density
Q: Why is my package pickup and delivery impracticable?
A:— The company does not offer pickup and delivery services for any of the below reasons.
Inadequate loading or unloading equipment
Poor road conditions/accessibility
Riots, natural calamities, government law or any likely transportation disturbance
Q: How do I make a delivery request?
A:— Contact your local terminal Customer Care Support to make delivery arrangements
Q: Can I request for a delivery or pickup from my residential place?
A:— Yes. Estes Freight offers door-to-door (pickup and delivery) services at an extra fee as the services include additional resources.
Estes Status
| **Status | Description |
| --- | --- |
| Courier departed pickup location | The courier left the item origin after pickup |
| Shipment delay | There is a delay in delivery of the shipping item |
| Item arrived at the destination | The shipping item has arrived at the destination location |
| The estimated delivery time | The approximate item delivery time |
| Completed unloading | Successful offloading of the shipping item |
| Available for delivery | The item is registered for delivery at the Estes terminal |
| Shipment re-consigned | A change in the delivery address |
| Delivery appointed date/time | The set delivery date or time |
| Normal appointment | The item standard shipping appointment |
| Refused by customer | The item delivery declined by the customer |
| Delivery appointment secured on this date/time | The delivery booked for a specific date or day |
| Normal Item Appointment | The normal item delivery booked |
| Item is in transit | The item delivery is on course |
| Item awaiting departure | The item is at the terminal pending delivery |
| Item En route to the destination | The item delivery is on course |