Track Canada Post Package| Canada Post Xpresspost Tracking
Canada Post Corporation, which is formerly known as Royal Mail Canada, operates the largest retail network in Canada, provides end-to-end service for e-commerce shippers and online shoppers.
We will help you with track Canada Post package, as well as getting the latest delivery information. Order Tracking Tool can easily track them from over 600 couriers around the world, including China ePacket, Yanwen Courier , China Post Group and others. Easily track your Canada Post parcels here!
Canada Post Customer Service Contact Phone Number
1-866-607-6301 (For Delivery status of parcel/Postage rates)
(Monday to Friday, 7 a.m. – 11 p.m. ET; Saturday and Sunday, 9 a.m. – 9 p.m. ET)
Canada Post Tracking Number Format / Example
11 or 13 alphanumeric characters ending in CA, or 16 digits.
16 digits (0000 0000 0000 0000),
13 (AA 000 000 000 AA).
Canada Post FAQ
Q:My Canada Post tracking number lost, where can I find it ?
A: If you are the sender, please find it at the bottom of receipt of Canada Post; If you are the receiver, (for example—purchase the item from the online merchant), please contact the sender(merchant) to get the tracking number.
Q: The Canada Post tracking status hasn't updated for a long time, what's the reason?
A: Please note: for international parcels tracking information is trackable in Canada, you can view the delivery status of the package when it is in Canada.
Q: The tracking status of Canada Post parcel suggests "delivered", but I haven't got the package, what's the reason?
A: Please confirm with people around your home about if there is anyone received the parcel for you on your behalf,or if the parcel is delivered in mail room, front desk, or safe drop location, if not, please check if there is a notification card, from which you can find how and where to get your package. For more information please contact the Canada Post (1-866-607-6301)
Q: What does the Canada Post tracking status mean—"Notice left?
A: This could occur for one of the numerous reasons, for example—
The parcel won't fit via the post office compartment
The post box is full /the parcel is too big to put in the post box
Nobody is accessible to receive the package
If you got the "card for pickup", means you have to get to post office of Canada Post to collect the package.
Q: What's the transit time and delivery time of the Canada Post?
A: —For domestic mail
2 working days for local mail
3 working days within the province
4 working days for national mail
—For international mail
4-6 working days to the USA
4-7 working days to other countries. (varies with the destination country and type of service.)
The delivery hour—Monday to Friday from 9:00 a.m. until as late as 8:00 p.m.
Canada Post Delivery Status and Meaning
| Status | The meaning of status |
| --- | --- |
| Ready for pickup | The package arrives at the post office of the Canada Post safely and is waiting for pick up |
| Expected delivery date | The estimated date of the parcel to be delivered |
| Date range | Your parcel will arrive in a few days later(normally 3-5 working days) |
| No expected delivery date | The parcel is on it's the way to the destination. (It occurs when Canada post didn't get the shipment date, doesn't mean the delivery is delayed.) |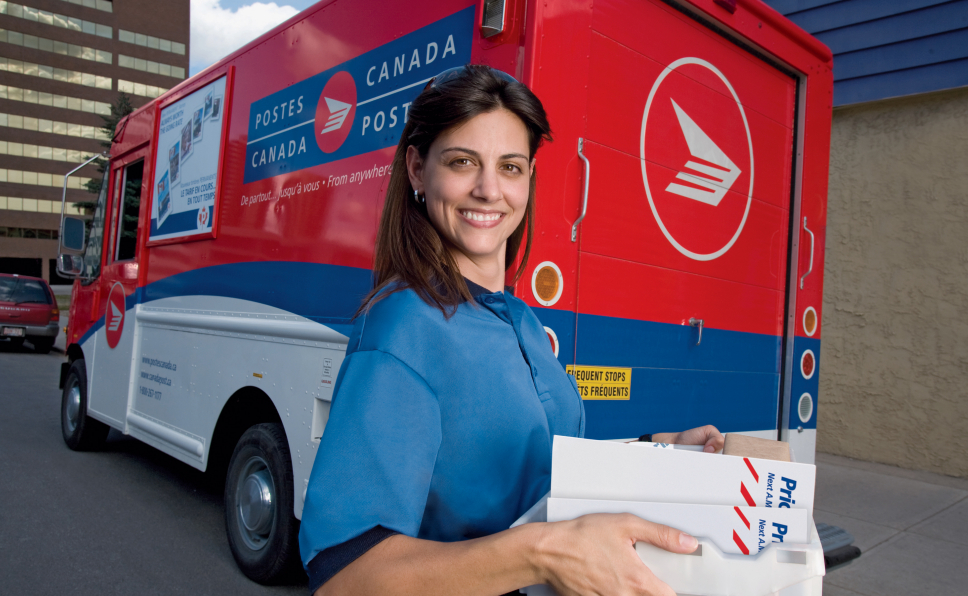 Order Tracking—Track Canada Post Parcels
[Save More Time]—track several packages via multiple Canada Post tracking numbers and view all the delivery status at the same time.
[Track Parcels Anywhere]—Just check the message sent from the Order Tracking, you can follow up every Canada Post order.
[Aim at Online Merchant and Customer]—Suitable for an international online trader who has a lot of Canada Post packages and orders to track and trace.
[Workable on Different Platforms ]—Both PC and mobile phone are supported by Ordertracking. Convenient to track Canada Post packages anywhere.