ABF Freight Tracking
ABF is a company that specializes in general logistics and freight services. It was founded in the year 1923 and has over 13,000 employees. It is a subsidiary of the ArcBest Corporation and the Headquarters is in Fort Smith, Arkansas-United States.
OrderTracking offers parcel tracking services from over 600 couriers including China EMS(ePacket), Yanwen, China Post and others. Easily track your ABF Freight parcels here!
ABF Freight Customer Number
Customer Care Telephone: 479 785 8900
Email: [email protected]
ABF Freight Tracking Number
The tracking number is the reference/Pro number that has 9 digits, for example, 050096106.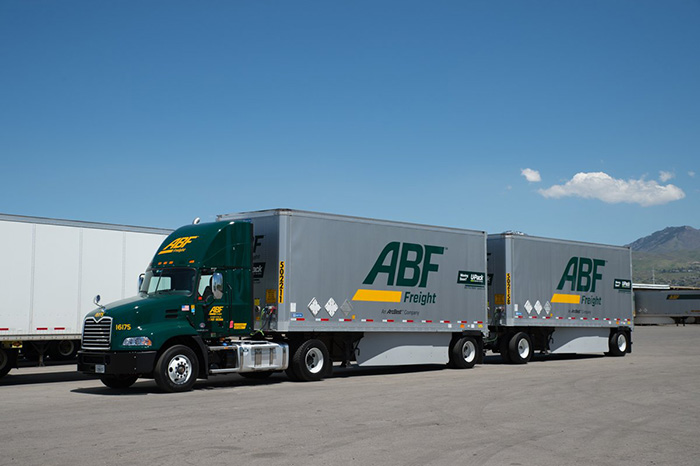 Track ABF Freight Delivery
ABF offers a wide range of efficient and reliable delivery services across the U.S and Internationally. These services include:
Less-than-Truckload (LTL)
Intermodal
Expedite Shipping
International Shipping



Less-than-Truckload

This shipping service is ideal for a shipping item larger than a parcel but does not qualify to be a truckload. The key features include the following.
1.Reliable
2.Shipment tracking feature
3.Proactive Customer Support
4.LTL Freight quote
Intermodal
This is a shipping service that combines both road and rail means of transport. Through the service, it is possible to ship huge cargo safely and quickly. Here are its main features:
1.Shipment tracking
2.Cost-effective
3.Environmental-friendly
4.Extra-seal security measure
Expedite Shipping
This is a shipping service for the time-critical shipments that require either day or night deliveries. This expedited service has a 5 minute- average commitment time, time-specific delivery services, and a 24 hours Customer Support service.
International Shipping
The ABF Freight offers global shipping services through Ground delivery, Ocean Shipping, and the International Air Freight Services.


ABF Freight FAQ
Q:Is it possible to alter the delivery address of my freight shipment?
A:— Yes. ABF Freight has an online Dynamic Re-routing Tool for delivery address change. Alternatively, you should contact Customer Support through 800-610-5544. ABF Freight only allows you (the shipping fee payer), to make an address change.


Q:How do I book a pickup for my shipping item?
A:— You can book a shipment pickup by calling Customer Care through 800-610-5544 or the Online Pickup schedule.


Q:How do I establish the delivery status of my shipping item?
A:— Enter the reference/Pro number of your shipment on the online tracking tool to get the delivery status.


Q:How do I get proof of delivery?
A:— You should log in to your ABF account to view and print the delivery receipt using the Document Retrieval Tool.


Q:What are the international Freight shipping charges?
A:— To establish the Freight charges, you should log in and click on the BILLING AND PAYMENT tool on your account.


Q:What course should I take in case of a shipping item damage or loss?
A:— You should file a claim through the Claims tool available on the AFB Freight website. Fill in the Freight details, including the Pro Number, origin, and the destination.


Q:Which international regions does ABF Freight cover?
A:— The ABF Freight services, cover 6 continents namely Africa, Europe, Asia, South America, Australia/Oceania, and North Africa. Therefore, it cuts across all major cities in these continents.


Q:Can ABF Freight do item packaging on my behalf?
A:— No. Ensure that you pack your shipping item in a crate, carton, and any other material convenient for handling/transportation. You will be liable for any loss or damage resulting from poor item packaging.


Q:Can I edit a Bill of Lading?
A:— Yes. Create and log in to ABF Freight online account. Use the most recent Bill of Lading to update the information of your desire.


Q:Can I check the delivery status of a pickup request?
A:— Yes. Enter the pickup request number on the online tracking tool or call the Customer Care via 800-610-5544.


Q:Can ship an item on Saturday with ABF?
A:— ABF does not offer weekend or holiday delivery services. However, it is possible if a customer requests freight delivery/pickup during non-working hours. This will attract a minimum fee of $415 per ABF employee a day.


Q:How will I receive the shipping status of my freight shipment?
A:— You will get the shipping status through online tracking and email notifications.


Q:Can I use the Collect on Delivery (COD) payment for my ABF shipment?
A:— Yes. ABF allows COD for the following payments:
Bank certified-check
Consignee's Check authorized by the consignor.
Cash up to a maximum of $500
Money Order
Bank Cashier's Check