4PX/ Track your delivery
4PX offers global logistics and warehousing services in more than 20 overseas countries. With on-time delivery and quality service provided, they have become China's leading choice and has also overcome the hurdles for the cross-border-e-commerce industry.
4PX, the abbreviation for "The Four Party Express" is the leading global logistics and warehousing service provider of China. 4PX is the reason behind China's fast-growing e-commerce industry. Though China-based, its door to door delivery service isn't just restricted to China itself but internationally too. The company has over 50+ service outlets in China and 20 overseas in countries like- UK, Japan, Australia, France, Spain, Italy, Korea, Hongkong, Singapore, Malaysia, United States, and other countries.
The Goal of 4PX
The prime 4PX goal is customer satisfaction for which they have more than 3200 personnel working with them in the logistics department.
4PX Services
With the diversified global market approach, the 4PX services can be basically divided into 3 major categories:
-Over 50 varieties of logistics products & services
-Reverse logistics services
-Warehousing services
Get your products stored effectively in China and overseas with 4PX customized warehouses. It also offers product delivery with the help of local courier services in the area.
4PX customer service provider
In order to contact 4PX give a call at 86-755-23508000- the China warehouse contact number.
4PX parcel tracking code format
4PX tracking number is generally a 13-digit code comprising both number and letters.
For example, UP821005447CN
Reasons for choosing 4PX
-Global logistics and warehousing
-Easy and fast operation
-Access to both sea and airways
-On-time delivery
-Door to door delivery
-Low logistics cost
-Tie-ups with local courier
-Order processing within 24 hours
-Constant updating of the system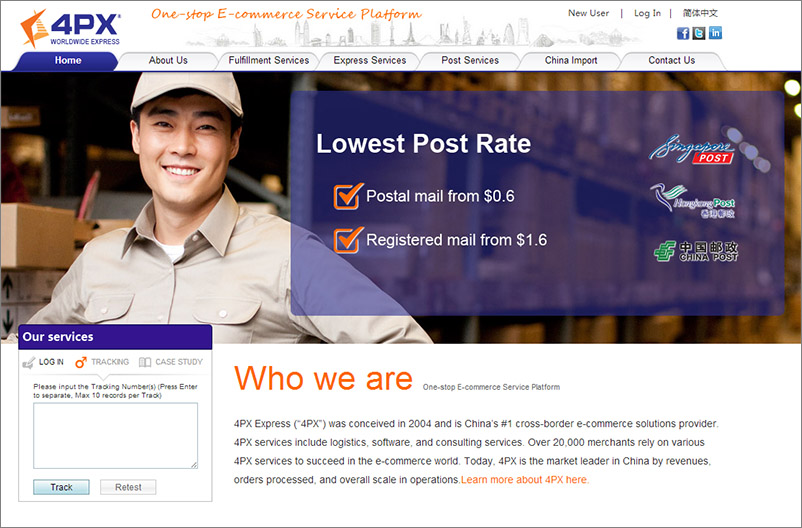 FAQs
Q: How do I track my 4PX delivery status?
A:— In order to track a 4PX delivery, you got to click on ordertracking page Enter the tracking number and check yourself the delivery status with just 1 single click.
Q: How long 4PX takes to process any order?
A:— All orders are handled by 4PX after 24 hours of the order being released in the system.
Q: Time taken to reach an overseas warehouse?
A:— Once the goods have been delivered time taken to reach overseas depends on the distance.
For example; To reach 4PX warehouse:
-OBC (ON BOARD COURIER) takes 2-3 working days
-HongKong D takes 3-5 working days
-EMS takes 7-10 working days
Q: Time taken for the goods to reach a few destination from China:
A:—
In order to know more about 4PX shipping time calculator and the time taken to reach your destination click https://www.trackingmore.com/4px-cn-en-ship-packages-from-china-to-other-countries-by-4px
Q: Can 4PX pick up the parcel for me?
A:— Yes, we do pick up the parcel from your location. Pick up in Shenzhen, China will be free whereas it will be chargeable from other places. Call us to arrange for the pick-up.
Q: How do I send my inventory to 4PX warehouse?
A:— Send your good to any of 4PX branch by yourself. All details of 4PX warehouse branches are available here: http://express.4px.com/html_new/contact1.htm
Q: Does 4PX accept all products delivery?
A:—
Yes, you can get any and every product stored and delivered apart from the goods mentioned below:
1) Toxic substances
2) Liquids
3) Arms and ammunition
4) Chemical substances
5) Dangerous/ hazardous goods
6) Cigarette
7) Alcohol
8) Cash
9) Securities
10) Pirate goods
11) Any goods prohibited by IATA
Q: Future goals
A:— To make 4PX the global delivery platform, making it the prime choice for delivery by all e-commerce platforms and express delivery houses.