China's Guangdong province has launched a drone express delivery service
An 8km delivery route for drone has been opened in the Songshan lake area of Dongguan city, Guangdong province, in cooperation with Chinese drone companies. The single-way delivery time of 5kg packages can be shortened from 40 minutes to 8 minutes through intelligent drone delivery.


It is jointly launched by DHL, a world-renowned Courier company, and Ehang intelligence, a drone company. According to the report, the route flew about 8 kilometers from DHL's service center in Dongguan, Guangdong province, to the Songshan lake area, using Falcon logistics drone for delivery. The model has a 4-axis 8-paddle multi-rotor structure and a maximum range of 10km.


At the press conference, Ehang intelligence also unveiled the Ehang 184L logistics drone with a maximum carrying capacity of 260 kilograms and a maximum flight range of 25 kilometers. Ehang related person in charge introduced that this product will become the next phase of intelligent logistics drone primary model.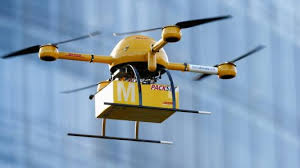 The relevant person in charge of DHL company introduced that the drone logistics solution released this time can effectively overcome the problem of traffic congestion, improve delivery efficiency and cut-off time, and is suitable for short and medium distance logistics distribution needs of flexible and high frequency in the city. At the same time, relevant enterprises have specially developed intelligent cabinets to realize automatic cooperation and seamless connection with unmanned aerial vehicles, which can be used as the connection of "the last kilometer of delivery" of express packages.


In recent years, drone logistics has become a director of intelligent development of the logistics industry, leading to the transformation of the whole logistics field. Hu Huazhi, chairman of Ehang intelligence, said that since June 2018, Ehang intelligence has cooperated with relevant enterprises to open five drones logistics and food delivery routes in cities. We look forward to the innovative solution of "drone + logistics express delivery" landing in more areas to build a three-dimensional urban air traffic ecosystem.